Bazil Taha Ahmed
Primary tabs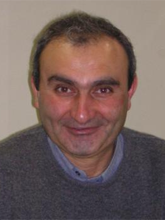 Position:
Associate Professor (tenured, civil servant)
Short Bio:
Bazil Taha Ahmed nació en Mosul, Irak, en 1960. Recibió la licenciatura y el máster en Ingeniero en Electrónica y Telecomunicación en 1982 y 1985, respectivamente. Obtuvo el D.E.A. y el Doctorado en Ingeniería de Telecomunicación por la Universidad Politécnica de Madrid en 2001 y 2003 respectivamente. Ahora trabaja como profesor titular (no funcionario) en la Universidad Autónoma de Madrid. Ha publicado mas de 100 artículos y documentos científicos sobre propagación electromagnética y sistemas CDMA, particularmente sobre la capacidad de CDMA. Sus intereses en investigación incluyen las tecnologías inalámbricas y su coexistencia, como UMTS, WiMAX, sistemas Ultra Wide Band y redes de área personal (WPAN).
Bazil Taha Ahmed was born in Mosul, Iraq, in 1960. He received the B. Sc. and M. Sc. degrees in Electronics and Telecommunication Engineering from the University of Mosul, in 1982 and 1985, respectively. He got the D.E.A and Ph. D degrees both in Telecommunication Engineering form the Polytechnic University of Madrid, in 2001 and 2003 respectively. Now he is working as an Associate Professor at the Universidad Autonoma de Madrid. He has published more than 100 scientific journal and conference papers in the area of the electromagnetic propagation and CDMA systems, particulary technologies such as UMTS, WiMAX, Ultra Wideband systems and Personal Area Network (WPAN).